Best DSLR Cameras for Video
As digital camera technology becomes more and more advanced, a lot of doors are opening up for independent filmmakers and hobbyists. Making a high-quality movie a decade ago would require filmmakers to invest a significant amount of money in equipment and post-processing fees. With the new range of affordable DSLR cameras available today, the tide has changed dramatically. Make sure you choose a camera that offers the best features and options for video.
1. Canon T3i
---
The Canon T3i is a slightly more functional upgrade to the extremely popular T2i, which was the DSLR of choice for many budget filmmakers for years. The T3i is an excellent option for independent filmmakers or anyone working on a budget, and is the most affordable of the popular DSLRs for video.
The T3i offers a number of great features, including:
18 MP APS-C CMOS sensor
Same DIGIC 4 processor found in the more expensive D-Series Canons
Vari-angle, flip out LCD screen
Shoots 1080p video at 24 and 30 frames per second
Shoots 720p video at 60 frames per second
In-camera audio leveling
Full control over exposure and ISO values
Adjustable picture profiles for video shooting
There are a lot of Canon cameras that are considered excellent for DSLR videography. However, the T3i is the only camera that can be easily found for less than $600 brand new with these features. This makes the T3i great as a backup camera for advanced users and an excellent primary camera for budget-conscious filmmakers.
2. Panasonic GH2
---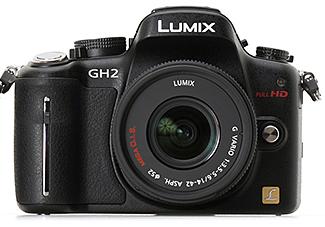 Though not technicaly a DSLR, the GH2 has earned a place on this list for a number of different reasons. It is a lightweight interchangeable lens system that provides excellent video quality for a reasonably low price. With a price hovering at around $680 for the body, it's roughly $100 more than its next closest competition, the T3i.
Technically, the Panasonic GH2 is a mirrorless system. Traditional DSLRs utilize an angled mirror to reflect the image coming into the lens up to a prism that relays the image through the viewfinder. This allows the shooter to see the exact same composition that is coming into the lens. When the shutter is pressed, the mirror flips up to reveal the sensor, which captures the image. Mirrorless cameras do away with the mirror and prism, replacing them with a digitally reproduced image in the viewfinder. Aside from this, the GH2 looks and feels like any other small DSLR camera.
Some features include:
16.05 MP Micro 4/3 sensor
Utilizes the high-quality AVCHD video codec, which can record for almost twice as long as other formats like Motion JPEG
Full HD shooting mode in 60i and 24p
High-speed bit rate of 24 Mbps, producing high-quality video
Articulating LCD screen with touch-screen capability
Dedicated movie record button
Rack focusing with touch-screen focus while filming
Lower potential for aliasing
For the price, the Panasonic GH2 packs a punch that truly warrants its place among more "true" DSLR filmmaking tools. You will need to be conscious of the significantly larger sensor crop of these Micro 4/3 cameras when compared to the APS-C cameras in the Canon line. However, it's all about give and take. The GH2 provides an out-of-the-box functionality that cameras like the T2i, T3i, and 60D don't without added firmware. Also, some people using the Sony Vegas editing program have noted that the .MOV files created by cameras like the T3i won't work on Vegas without being converted, which creates a loss of video quality. The AVCHD format works well here, though.
3. Nikon D7000
---
There aren't a lot of Nikons that fit the bill for use as video DSLRs. Some of the higher-priced models make excellent video tools, but at a cost that is on par with or higher than vastly superior video cameras. The D7000, however, is a great option for Nikon shooters who want to make high-quality videos. The camera costs less than $1000 and is capable of providing high-quality full HD video using one of the most expansive ranges of lenses on Earth. Since the cost is so low, the D7000 is a very accessible video option. Some of the important features include:
16.2 MP DX sensor provides a lower crop factor than APS-C Canon sensors
Shoots 1080p and 720p at 24 frames per second
Also shoots 720p at 30 and 25 frames per second
Responsive full-time autofocus during video
16.2 million effective pixel resolution
Durable magnesium alloy body
Natively compatible with an exceptionally diverse range of high-quality Nikon lenses
Canon and Nikon are really the two major hitters in the world of DSLR filmmaking. Between these two companies, most Canon models beat out similarly priced Nikon cameras in terms of usability and video quality. The D7000 is a great option for shooters who are familiar with Nikon products or who have an affinity for Nikon lenses. It provides high-quality video at a price-point that makes it a viable option for DSLR video shooters.
4. Canon 5D Mark II
---
The Canon 5D Mark II was released in late 2008 amid an enormous amount of fanfare. To this day, it remains one of the most popular options for DSLR video, and is still viewed by some as the best all-around DSLR for filmmakers. This is true despite the fact that there have been two major upgrades to the 5D Mark II over the years, including the 5D Mark III and the 6D. With a price that continually hovers at around $1,799, the award-winning Canon 5D Mark II is the most affordable full frame sensor camera on the market for people who are serious about DSLR video.
There are a lot of great reasons to get the 5D Mark II, including:
Full frame, 12.1 MP CMOS sensor
4 GB clip capacity, which equates to roughly 12 minutes of record time per 1080p video clip
Excellent performance at high ISO with very little noise compared to other cameras
DIGIC 4 processor
Dust and weather risistant build
ISO expandable up to 25600
Self-cleaning sensor
Compact flash recording
Wireless file transfer
Very durable magnesium alloy body
The 5D Mark II is still very popular because of consistent support through Canon firmware updates and excellent video quality. As of this writing, the 5D Mark II is also the only full frame Canon to be supported by the Magic Lantern program in a stable release. This provides the 5D Mark II with a significant advantage in terms of easing workflow during video production.
Tips for Choosing Your Camera
DSLR filmmaking is all about putting high-quality video and broad lens choices in the hands of people who don't have the money to spend on a quality camcorder. A high quality HD camcorder will almost always beat out a high-quality DSLR for HD video, but often for a substantially larger price. To help you make your selection, keep the following things in mind when you are choosing your DSLR.
Sensor Size
Sensor size determines how narrow the field of view is on your camera. Full frame sensors provide you with a fuller, wider angle of view than cropped sensors like the Canon APS-C, Nikon DX, and Panasonic Micro 4/3 mounts. Full frame cameras are also more expensive than cameras with smaller sensors.
Lens Choice
Photographers and DSLR filmmakers have long undersood that it makes much more sense to invest in great lenses over new camera bodies whenever it's possible. The best camera in the world mounted with bad lenses will still produce a sub-par image. Lenses will last you for decades when you care for them properly, and play a huge role in how your final video will look.
Firmware Hacks
Firmware hacks are a way for DSLR shooters to enhance the video production capability of their cameras. There are well-established and popular firmware hacks available for the Canon and Panasonic models on this list, but the Nikon versions are still in their infancy. These "hacks" are legal and are known to be safe for use, but there are some caveats. The programs are not supported by the original manufacturers and you are not given a 100% guarantee by the programmers that the program won't harm your camera. If the program does harm your camera, it will likely void your warranty. These programs are generally safe to use, but you should be aware of the potential risks before using them.
Shooting Modes
The real benefit of using these cameras is the availability of high-quality 1080p video shot in different frame rates. Most of these cameras won't shoot 60 frames per second in anything higher than 720p, which is the frame rate to use for slow motion shots. 24p and 30p video are commonly referred to as the frame rates to use if you are trying to replicate the "film look" of movies shot on 35mm film.
Moire/Aliasing Issues
Some of these cameras have issues with moire patterns at qualities higher than 720p at certain frame rates. These patterns produce the appearance of wavy lines on certain surfaces. Look into the prevalence of these issues with every camera you consider purchasing.
Making Quality Video Affordable
Almost every single DSLR manufactured after 2010 has some form of HD video recording capability. The quality of the video pulled from these cameras is exceptional and has helped make these cameras very popular with independent filmmakers, hobbyists, and anyone who wants to learn more about making quality videos. DSLR cameras give filmmakers access to reasonably inexpensive cameras that can shoot beautiful full HD video. These cameras also give budding filmmakers access to a staggering range of affordable lenses to use while making their movies.