Seniors preparing for their all-important Senior class pictures tend to spend a lot of time deciding what clothing they want to wear, the props they will bring and the background they want in their photos. The photographer should come armed with a few poses in mind and some practical tips to convey to the subject in order to get the most attractive and flattering senior photo possible. Most professional photographers specializing in senior portraits offer packages that allow a student to choose from 15 to 40 different poses per session. Poses are broken down into categories, with the most popular being formal and informal.
Formal Poses
Formal senior portraits are important and feature traditional poses, but they don't usually capture the subject's personality. Here is some information to consider when shooting formal photos:
Try the standard head and shoulders shot
Have student don a graduation cap and gown or other formal attire.
Try different background colors
Keep in mind that the photos may be used for high school yearbooks and graduation invitations
The photos will likely be displayed in frames by proud parents and grandparents
Informal Poses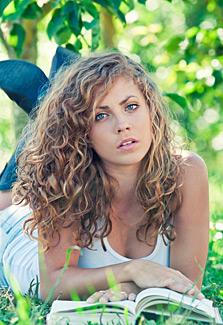 Informal poses capture a high school senior in a more casual setting and often highlight the student's personality. Full-length informal poses can reveal unmatched socks, missing belts, odd accessories and stained pants. Be sure to check your outfits ahead of time for spots, wrinkles, and holes.
The majority of these photos are three-quarter or full-length shots, which gives teens more latitude to strike unique poses.
Informal indoor shots take place at the photography studio with students donning casual outfits such as their favorite jeans or sweaters.
Photographers may position teens on stools or have them sit in lightweight chairs near windows or mirrors.
Outdoor shots might feature teens wearing casual clothing, posing near trees and fountains, on a park bench, or in the middle of flowery meadow.
Some informal poses will feature students gazing in a direction other than where the camera is positioned.
Not all shots will include a full smile.
Specialty Senior Photography Poses
These days the most popular senior portrait option is the specialty pose. These poses allow students' personalities to shine through and transcend ordinary photographs. Photographers refer to these poses as "fun shots" and encourage teens to bring along personal props that express their individuality and enhance the portrait.
For example, a star athlete might consider being snapped catching a game-winning ball or a die-hard equestrian may pose with a horse. Popular props include:
Musical instruments that can be held or played for a senior photo.
Uniforms (cheerleading, football, basketball or military) which should be accompanied by appropriate props.
Sports equipment (such as footballs, skis, bats, pom-poms or tennis rackets) that can be held or used in a shot.
Pets can add a bit of whimsy to a shot, but the pets need to be clean and well groomed before coming to the shoot.
Hats can be worn on a head or casually held.
Vehicles (cars, motorcycles, or bikes) make a bold visual statement. The subject can sit in the vehicle or on top of it, or may stand next to it in a photo.
Books are a great prop for a senior photo and can be used in the background. The student can also appear to be reading in the shot.
Games (chess/checker boards or video games) can help give the audience an idea of the student's hobby. The subject can interact with the game during the shoot.
Photographers find a way to integrate these props into senior photos so recipients of the portraits get a sense of what the student is most passionate about.
Perfecting Your Pose
Before you arrive at a photo shoot, it's a good idea to practice your facial expressions in front of a mirror. Experiment with various smiles, poses and animated expressions. Your level of comfort will show in your body language, so your goal should be to appear as natural and upbeat as possible.
Professional photographers will arrange your standing and sitting positions and provide direction on other poses. However, you should not hesitate to suggest other stances or positions.
When personalizing your pose, consider these simple tips:
Attitude makes a difference. The more comfortable you are in front of the camera, the better your shots will turn out.
Be yourself. You don't have to break out a huge grin in each shot. Make yourself comfortable and pose naturally.
Bring in samples. If you have a pose that you admire from a magazine or book, bring it with you to your session and have the photographer work with you to replicate it.
Get to know your photographer. Set up a meeting with your photographer prior to your session to discuss different pose options. Getting comfortable with your photographer will yield quality senior portraits.
The Importance of Senior Portraits
High school senior pictures document a student at the brink of adulthood, poised to begin the next chapter in his or her life. These portraits have special meaning for students and their families, which is why capturing the right pose is so important.