Polaroid Frame Clip Art Templates
You can use Polaroid frame clip art templates to give your photos a fun vintage look on Instagram, in scrapbooks, or on handmade greeting cards. Polaroids are trendy and fun, and there are so many creative possibilities for these cute frames!
Free Polaroid Frame Artwork
The original clip art graphics provided here are free to use. Simply right-click any image you'd like to use and save it to your computer or other digital storage device. If you run into problems downloading the file, these helpful tips can come in handy. After downloading, you can use the image as a digital file or print it - whichever option best meets your needs. Use as many of the designs as you would like.
Creative Ideas for Using Polaroid Frames
Your pictures are already great, but you can make them awesome with the addition of Polaroid frames. The frames give them more impact on social media and in print, and you can even make someone smile with a framed photo text. Try these fun ideas.
Get the Film Look for Instagram
Film photos and photos that look like film are all over your Instagram feed, and you can use these clipart frames to emulate that vintage look. Simply edit your original image with a little extra contrast and grain to give it an analog feel. Then add a classic white or off white Poloroid frame. Everyone will think you took it with an instant camera!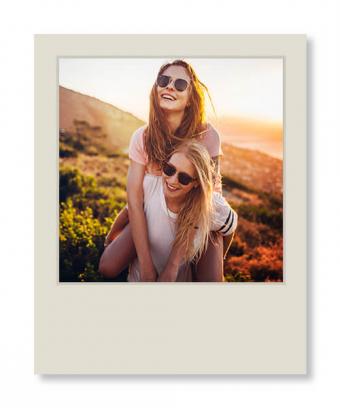 Give Your Profile Picture a New Look
Use the pinned Polaroid frame to give you social media profile photo a new, fun look. No one else will have this cute and casual style to their profile photo, so you'll stand out on Facebook and other platforms. What's more, the slanted frame will look great in a square crop, which is important for most profile pictures.
Send a Cute Framed Photo to a Friend
If you want an adorable way to show your friend you're thinking of her, try texting her a framed photo of the two of you together. This is the kind of thing that can make her day. Don't limit yourself to one friend either; this is a fun way to tell your mom you love her or say hi to other special people. Simply choose a clipart frame that looks great with the colors in the photo.
Announce a Baby (or Fur Baby) in Style
If you have a new little one in your house, you can use Polaroid frames to give your baby photos even more adorable appeal. Print them out or just share them online; either way, you'll get plenty of smiles from everyone who sees them. These frames work great with birth announcements, and you can even use them for a puppy birth announcement!
Fun Way to Enhance Pictures
These free clip art designs resembling Polaroid snapshots provide a really fun way to enhance your pictures and creative projects. Whether you select one of the classic black and white designs or choose a more colorful option, your projects are sure to shine when you incorporate fun graphics like these.